New winner picked at 4pm central EVERY DAY!
Next Winner Announced In:
Win a $100 gas card!
New winner picked at 4pm central every day.
Next Winner Announced In: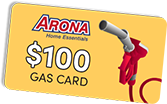 Your Local Arona:
Grand Island, NE

Hi there! Welcome to Arona Grand Island!
Arona Home Essentials in Grand Island, Nebraska is the only place you need to shop for all your home needs! We carry a wide selection of top brands and styles of appliances, electronics, furniture, tires, and more – in other words, we carry everything you need to turn your house into a home. Whether you are converting a spare room into a home office or new bedroom, or maybe it's time to upgrade the appliances in your kitchen, our experts at Arona are ready to help you each step of the way.
At Arona Home Essentials, we prioritize the happiness of our customers over everything else, and we believe that happiness starts in the home! To help you meet your goals, we offer several different payment plans for your rent-to-own items. Whether you want to pay weekly, bi-weekly, or monthly, we can help you decide what's best for your budget and lifestyle! We also never run credit checks, so you are automatically approved to lease with us.
Our Grand Island location is conveniently located on Diers Avenue, right off of N U.S. Highway 281. We are right next door to Sam's Club and across the street from the Conestoga Mall, if you need to run any errands after shopping with us! If you work up an appetite while shopping, we're right across from Napoli's and down the street from Popeyes and Red Lobster. In the mood for home DIY projects after shopping with us? We're right down the street from Hobby Lobby!
Call us, send us an email, or stop by our Grand Island store to learn more about all the benefits that come with being a member of the Arona community – our experts are on standby, waiting to help guide you through whatever home update is next on your list. No matter what you are looking for – a new dishwasher, television, sectional, or tires – we are here to help you find it. We have been experts in the rent-to-own community for over thirty years, so when you shop with Arona Home Essentials, you can trust you're in good hands! 

Store Hours
Wednesday
10:00am - 7:00pm
Thursday
10:00am - 7:00pm
Saturday
10:00am - 5:00pm